PW & Team
Ticketing service based on Malaysia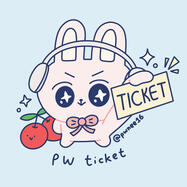 – We are a team that provides ticketing service based on Malaysia and oversea, such us Bangkok, Singapore, Jakarta, Korea and more!– Please kindly read our Terms & Conditions if you want to proceed a service with us!
From PW & Team
Reminder that we are just a service provider, not an Insider, we cannot guarantee anything for you! We're doing our best! ♡
1) For oversea(eg.SG,BKK,JKT..) ticketing, customers are responsible for credit card charges! (rate depends on credit card statement that need 3 working days for waiting)2) 50% Service Charge +100% Ticket Price will be refunded if failed to secured the ticket.3) Service charge is not including processing fee/booking fee.4) NO REFUND for a sudden cancellation before ticketing!5) WILL NOT REFUND THE SERVICE CHARGE if customer manage to secured the ticket by themself.6) Once the ticket is secured, STRICTLY NO REFUNDS AND CANCELLATION!7) FULL TICKET PAYMENT is required before ticketing start!
(for out of malaysia event,we will take current real time rate to collect the amount ,so second payment is needed for credit card rate charge /procesing fees/booking fees)8) Please provide your own membership information (if needed) and filled in your details correctly as we aren't responsible for any mistake regarding the ticket later.9) For oversea event,we will provide our document to represent (if needed)10) Customers need to provide at least 3 preferred seats!11) Fussy and back out customer will not to be entertained!12) For REFUND,it will takes within 24 hour.13) DO NOT USE our service if you think we cannot be trusted.- By dealing with our service, you agree to the applicable terms and conditions.
– DM us through Twitter Direct Message or you can contact us upon WhatsApp.– Pay the service fee as a booking. Full payment is required before ticketing starts.– Last, you are good to go! Just wait for our update on your ticket!– Feel free to ask us anything, we are glad to answer your concerns!
PRICE RANGE
– Service charges depend on artist's popularity, on location and on fans demand for the concert.– Local (Malaysia): 30-80 MYR/30SGD/20USD– Oversea: 70-150 MYR/40SGD/30USD
PAYMENT METHOD
– MALAYSIA BANK
Maybank
5061 6425 0249
SOON PEE WEIY-WISE
[email protected]**Others payment method,please kindly DM for more.